Eliye Springs Resort is the perfect alternative for cliché visits to the coast for those seeking better tourist destinations in Kenya. It is, at present, the only beach resort on Lake Turkana. This is an excellent getaway destination for those looking to go far from the noise and the polluted air of urban areas.
Experience a feeling of tranquility as you watch the picturesque sunsets at the endless unspoiled beaches. The resort is simply an oasis in the desert off the western shores of Lake Turkana – the largest desert lake in the world! There are numerous water activities you can take part in at the lake, including boat rides, fishing expeditions, and other water sports.
The area boasts numerous palm trees and other plants that might have been only, otherwise, associated with the coast of Kenya. For those that wish to relax, this is the perfect spot for bird watching.
Accommodation
What's even more exciting about the Eliye Springs Resort is its fantastic accommodation options that are ideal for people touring Kenya on a budget. For those that just want to chill, you can opt for the lodges & self-contained cottages, otherwise referred to as the bomas.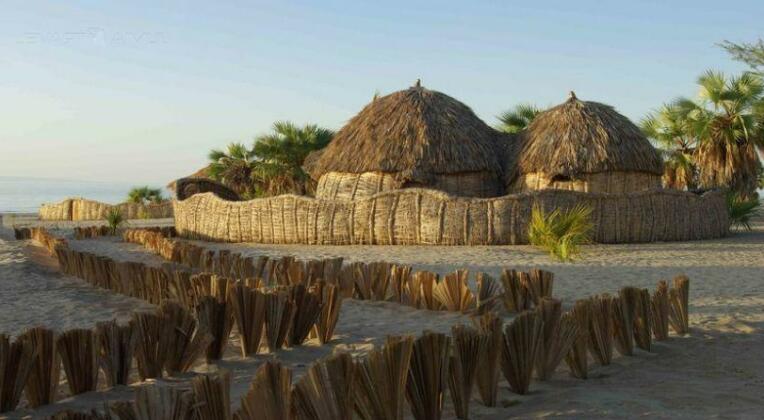 For those that wish to experience the Turkana culture, there are more rustic traditional huts called manyattas. The manyattas are quite spacious, and you won't believe how comfy they are – and they are quite affordable, too, setting you back only $20 or Ksh 2,000 per night.
Camping is also an option, and you can either bring your own camping equipment with you or you can hire from the site. There are two types of camping tents that you can get, including regular dome-shaped and clear mosquito tents. The latter is a preferred option by many as it offers you uninterrupted views of the stars in a clear sky.
You do not have to worry about feeling cold at night as the area is generally…a desert.
The springs that serve the resort offer mineral-quality water, one of the unique things about this destination. There is a fully-stocked on-site bar and restaurant serving a variety of foods and drinks.
The resort is also very secure, with security personnel manning the premises 24/7.
Facilities
Swimming
Beach
Laundry*
Indoor and outdoor fireplace
Satellite TV*
Credit card accepted
Room service
Ample parking
Bar and restaurant
Camping facilities
Transfers
*Kindly enquire for the latest information
Getting to Eliye Springs
Without proper arrangements, you might find it challenging to get to the facility. From Nairobi or any other major town in the country, you should plan on getting to Lodwar first (either by bus or by air.)
Thereafter, you can decide to take a taxi to the resort, get a car hire, take a motorbike, or contact the resort for transfers.
The roads are quite secure (considering how deeper you'll be going into the countryside), but it is always recommended to have company with you since it is also a bit far. If traveling solo, you'd rather get a guide from Lodwar or have the resort send in someone to come get you. The locals are quite friendly though, so you'll probably get any help should you run into some car trouble or get lost.
Nearby Places of Interest
There are several other amazing tourist destinations in Turkana that you can visit while on your stay at Eliye Springs Resort. The staffers will be ready to offer you any assistance needed. Some of the other tourist attractions near Lake Turkana include:
Sibiloi national park, which lies on the eastern shores
Central Island National Park in the lake
South Island National Park also in the lake and famous for the Nile crocodiles
Nariokotome
Koobi Fora
Just like the case for many other sunny tourist destinations in Kenya, it is recommended to carry light clothes, a hat, sun cream, and of course, a pair of binoculars.