Maasai Mara is home to Africa's exceptional wildlife. The reserve boasts Africa's most varied topography like wide-open central plains, hilly terrain, escarpment, and plateaus. You get outstanding sightseeing opportunities as you'll have the chance to see the African elephants, crocodiles, cheetahs, leopards, zebras, and wildebeests as they roam freely on the wide-open plains.
In this reserve, you'll be spoilt for choices since there are many thrilling activities such as game drives, setting up camps, visiting the nearby Maasai village, bird watching, balloon safaris, and many more. Here are some of the things you can do during your trip to the  Maasai Mara Game Reserve.
1. Game drives
Whether you want to spend a weekend, a night, or a day, you can't miss a chance to view some of the famous Big Five at the Maasai Mara National Reserve. You will not only view free-roaming wildlife but also get the thrilling experience of viewing diverse landscapes ranging from rocky stretches to grassland plains.
Game drives are usually done using 4*4 Land Cruisers or open-roof Safari vans to ensure you get a close view of the wild animals. Game drives are usually done in three shifts which include:
Morning game drives are usually done at dawn and allow you to view the African Sunrise. These drives are most rewarding as you will find most animals are looking for food in an open savannah. It is the best time to see cats like leopards and cheetahs hunting.
The evening game, on the other hand, usually starts from 4 pm till 6.30 pm. This game drive is ideal for those who want to view animals such as zebras as they assemble to rest.
Night game drives are usually done under the strict supervision of well-trained game rangers. These drives are mostly done by filmmakers who want to capture fascinating moments of the cats hunting at night.
Maasai Mara is one of the best places for game drives in Kenya as it has over 1000 different species to see. This reserve is usually flocked by tourists from July to October who wants to experience viewing millions of animals crossing the Mara River.
Grazing animals such as the wildebeest usually migrate to and from Serengeti national park in search of fresh water and pastures. Mara's ecosystem attributes to different animal species such as Leopards, Lions, Elephants, Rhinos, Oribis, Hyenas, Gazelles, Wildebeests, Crocodiles, and many more.
The Maasai Mara Reserve is open year-round, although the most rewarding time to visit is during the green season when millions of animals migrate.

2. Maasai Village
Vising the Maasai Village will give you an amazing sense of love and admiration for the Maasai tribe and its traditions. Here, you'll not only feel like you traveled back in time but also get an amazing experience as the villagers open up their homes and warmly welcome you.
The Maasai Village people's life is effortless and interesting. The people here and the wild animals are best friends.  Thorn fences surround their village to keep off the wild animals. The Maasai tribe is very conservative and is unwilling to integrate into modern society. Both genders wear bright red clothes and big beautiful necklaces.
The Maasai people do everything together, including cooking and raising their children. Their houses have no windows to prevent wild animals from entering their homes. You'll get an opportunity to sleep on their beds which are made of animal skins. There is a handcraft workshop within where Maasai women make leatherwork and traditional jewelry for sale.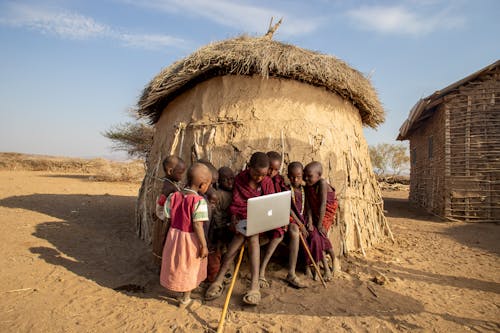 Community visit is the most lively and active activity that you should not miss while visiting Maasai mara. You will enjoy their dances and jumps done in an iconic way.
You can also try doing something new like milking their cows or learning how to extract fresh blood from the animals. You can also enjoy making their houses with mud, among other active activities.
3. Balloon Safaris
Most balloon safaris here begin just before dawn. Balloons give you incredible moments of viewing Mara's Ecosystem while floating on air. The hot air balloon is safe as experts operate it. You will have an unforgettable experience as you listen to the sounds and shakes of the balloon as it soars high. While using the balloon, you're advised to sit down to avoid being scared.
As you approach the sky, you get the best view of undulating beautiful scenery as you observe the big cats hunting their prey. Enjoy the tranquillity as you float above forests and rivers, and take breathtaking photos and videos. Most Baloon companies' rides take between 1-2 hours, depending on the weather.
4. Nature walk
Maasai Mara is a gifted reserve since it has many things to view during your stay.  You can do guided leisure walks inside the park or around the community. Before you embark on a walk, you are given guidelines to follow, and a  game ranger must head the walk.
Nature walk allows you to have a close view of animals such as Giraffes, Elephants, Buffalos, Zebras, and other grazers around the reserve. The researchers mostly prefer nature walks as they can learn more about the different vegetation zones.
Walking safaris will give you the most rewarding experience as you'll interact with the locals. You can share the local's excitement by putting on their sandals made of car tires. Nature walks are done as far as the Mara River, where you can capture captivating moments of wildebeests migrating.
5. Wildebeest migration
The wildebeest migration is one of the most thrilling experiences for nature and wildlife enthusiasts. The migration involves millions of animals crossing to and from the Serengeti-Mara ecosystem. Their journey begins at the plains of the reserve, all the way into Serengeti in Tanzania.
Guided by their survival instinct, the migrating animals such as wildebeests, gazelles, and topi move in constant cycles, searching for green pastures and fresh water. The large herd of grazing animals attracts hungry predators such as lions, cheetahs, hyenas, crocodiles, and many more, and they ensure only the strongest survive.
This astonishing movement is thought to be triggered by rainfall over 50km away. By recognizing thunder on the horizon, the circuits start their journey from the Ngorongoro Conservation Area to the Serengeti park in Tanzania.
Afterward, they move across the Mara River into the Maasai Mara and back again.
Migrating animals' journey is dangerous since the preditors usually snatch the young calves, and the cats bring down the slow and injured ones. Crocodiles also wait for their share along the river.
Witnessing these wonderful moments are way much more memorable rather than watching them in documentaries.
Don't worry if you're on a budget as the wildlife safaris are not expensive. To avoid missing out, you're supposed to book your trip earlier so that you can secure a nearby lodge.
6. Bird Watching
Maasai Mara is a birding paradise since it has over 450 bird species. Mara is known to host Ostriches, which are the largest birds on the planet. Commonly known as the "Maasai Ostrich." this birdlife is harbored to survive in different ecosystems available in reserves like river banks, open savannah, and the Great Rift Valley escarpments.
Bird watchers enjoy watching birds that come in different colors and sizes. The Maasai Mara is the only reserve with the highest number of bird species. You can get an opportunity to see 342 different bird species within 24 hours.
The most popular bird species are magpie Shrike, long-tailed Cormorant, Ostriches, Cattle Egret, Little Bittern, Great Egret, Rufous-billed Heron, Hamerkop, Yellow-billed stork, Marabou stork, Sacred Ibis, Hadeda Ibis, Egyptian Vulture, Ruppels Vulture, Tawny Eagle, African Fish Eagle, Secretary birds, and many others.
You can watch migratory birds such as Palearctic migrants, which migrate between October and February.  On the other hand, you can enjoy watching the bishop birds and the weavers as they come for breeding around June.
7. Mobile camping
For those who enjoy camping, you can set up a camp at the nearby Nabaisho Conservancy for a thrilling experience. You're not limited to the number of campsites you can spend your night in. You will be provided with Maasai guards so that you can feel the thrill of spending your night in the middle of a bush while listening to the sounds of wild animals.
You can request a private camp in a strategic place where different animals bring their young ones to drink water. The surrounding bushes are full of beautiful birds such as turacos, hornbills, and trojans.
8. Visit the Mara River
The Mara River is among the world's most famous rivers because of how the wildebeests cross annually. The river acts as a source of water for many animals around the area. You can enjoy watching animals along the river, such as hippos, crocodiles, and bird life.
You can get an unforgettable experience as you watch millions of zebra and wildebeest cross the river. You'll get the opportunity to watch the Nile crocodiles as they congregate along the crossing area, waiting for their prey.
Maasai Mara is a unique place not only in Kenya but in the World. You're spoilt for choices ranging from unique game drives to visiting the nearby Maasai village.
Are you looking to book a visit to the Mara soon? Check out our safari tour packages and choose one that suits your needs. Keep an eye out for more travel tips on our blog.